Measurably better:
Strategy. Execution. Results.
Experienced outsourced /​virtual /​freelance PART-TIME CFO services for international companies and tech startups planning to enter Germany /​Europe, especially in times of international travel restrictions.
A wrong decision isn't forever; it can always be reversed. The losses from a delayed decision are forever — they can never be retrieved.

John Kenneth Galbraith, 1908 – 2006, Economist, Professor at Harvard and adviser to several US Presidents
When it is a good time to call a part-time CFO …
Scaling Up for Startups and fast growing SMEs
Manage your inter­na­tional opera­tions /​subsi­diaries /​joint ventures (JVs) in Germany, in Europe or globally
You want to develop a clear vision, strategy or business plan.
Want to improve your company's opera­tional perfor­mance /​cash flow
Funding or grants are required and before important negotia­tions with banks
To manage change
Improve your external reporting as well as accounting
Face an imminent liquidity crisis
Want to realize M&A synergies during a post merger phase
Prepare to sell your business
Manage your company's financial, opera­tional or compliance risks
Need objective advice for a large investment /​capital expen­diture decision (like inter­na­tional expansion, invest in a plant, large equipment etc.)
Require Controlling as a Service (pricing, costing, planning, management reporting like KPIs)
Globally experienced, broadly skilled Senior Financial Manager, Entrepreneur and Mentor
Acting as Startup CFO for several IT /​cyber­se­curity /​deep tech startups.
Mentor at leading accele­rators including Fraun­hofer Venture in Munich, the de:hub 5‑HT for digital chemistry and health in Mannheim and GINSEP (German Indian Startup Exchange Program), NSRCEL of IIM Bangalore (India's leading business school as well as India's leading and largest incubator program with 115,000 attending founders so far) and StartUp Namibia (conducted in coope­ration with Stellen­bosch University — Africa's leading business school and supported by GIZ /​the German Federal Ministry for Economic Coope­ration and Development).
More than 17 years of inter­na­tional management experience (in Asia and Americas) in finance and opera­tions at leading DAX/NASDAQ-listed and family-owned indus­trial companies (chemicals, automotive suppliers, luxury goods and sensors). Job roles included CFO (abbre­viation for "Chief Financial Officer", who is respon­sible for all financial aspects and financial management of a company) and Head of Finance and Controlling, Head of Controlling, Manager Debt Capital Markets.
Studied Business Adminis­tration at leading German (University of Cologne) and Asian business schools (NTU Singapore and IIM Ahmedabad, India), graduated with an M.Sc. in Management from HHL (Germany's leading business school for Entre­pre­neurship), Certified Accountant (CCI), Payroll Expert (CCI), Certified Bank Clerk (CCI) and Advanced Management Programme (IIM Bangalore at the heart of the Indian IT Industry).
In addition, two highly expie­renced accoun­tants /​controllers work in the team.
Martin Thoele
(CEO, Founder & PART-TIME CFO)
(Note: CV available on request.)
---
Have your Company established in the Middle of Europe' leading Deep Tech /​IT Region at the Heart of Europe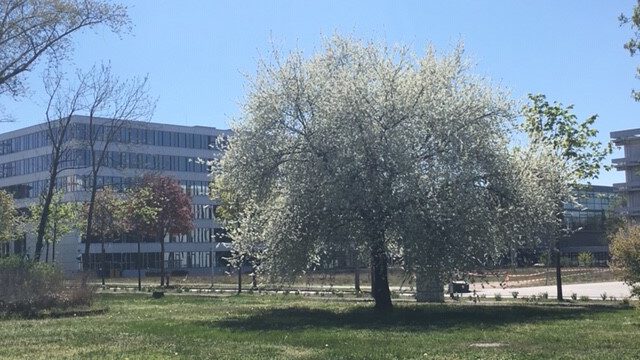 Our office in Darmstadt is centrally located in Germany as well as in Europe, which makes business travel conve­nient. It takes 25 minutes to Frankfurt airport, one of the largest airports in Europe, and 35 minutes to the financial district with the ECB and BaFin, which is respon­sible for the super­vision of banks, insurance companies and the trading of securities in Germany.
Darmstadt has been frequently ranked as one of the best tech and digital hubs in Germany as well as in Europe. Darmstadt features three univer­sities with 40,000 students (including the renowned Technical University of Darmstadt). It hosts Europe's largest research hub for cyber­se­curity, three Fraun­hofer insti­tutes and the GSI Helmholtz Centre for Heavy Ion Research. Furthermore, it features esa's space operating centre, EUMESAT being respon­sible for Europe's meteo­ro­lo­gical satel­lites and the EUR 2.5 billion FAIR inter­na­tional accele­rator facility under construction. Within a radius of one hour drive the by far largest European IT cluster is located.
---
Let's get started: Arrange your free introductory consultation for one hour. Just simply send us an email or give us a call.
During the consul­tation we will get to know each other and discuss briefly the main "pain points" in your business or your expansion plans for /​market entry strategy into Germany /​the EU.
AAAgiler GmbH
PART-TIME CFO
Heinrich-Hertz-Str. 6, 64295 Darmstadt, Germany
+49 – 157-3630 8261, +49 – 6151-787 7805
info@​aaagiler.​com