Invest directly in the German Mittelstand with our German Search Fund concept
Based on the adapted concept of a Search Fund, we offer wealthy investors, HNWIs (high net worth indivi­duals) and family offices the oppor­tunity to invest in company succes­sions directly acquiring (i. e. with no inter­me­diate fund structure) medium-sized companies in Germany. We pre-select suitable takeover targets and, if necessary, find the right management for the succession. In addition, we continue to support the companies after the takeover as PART-TIME CFO and thus conti­nuously increase the value of the company.

A search fund is an investment vehicle in which investors finan­cially support an entre­pre­neur's efforts to find and acquire a privately held company. In our concept however, no compli­cated fund structure is chosen, but an individual investor directly acquires the company, which is searched, screened and pre-selected by us. A typical purchase price or investment amount is between 3 and 10 million EUR. An analysis by the Center for Entre­pre­neurial Studies (CES) at the Stanford Graduate School of Business of 401 qualified search funds from 2020 showed an average pre-tax total internal rate of return of 32.6% and a 5.5x increase in pre-tax invested capital.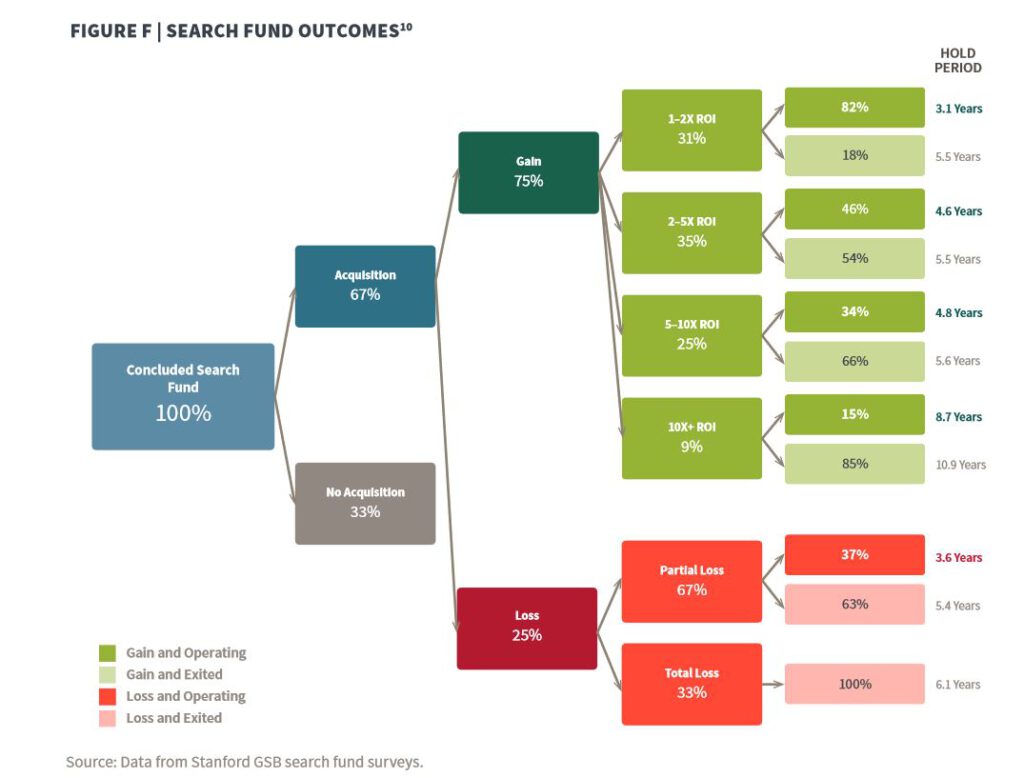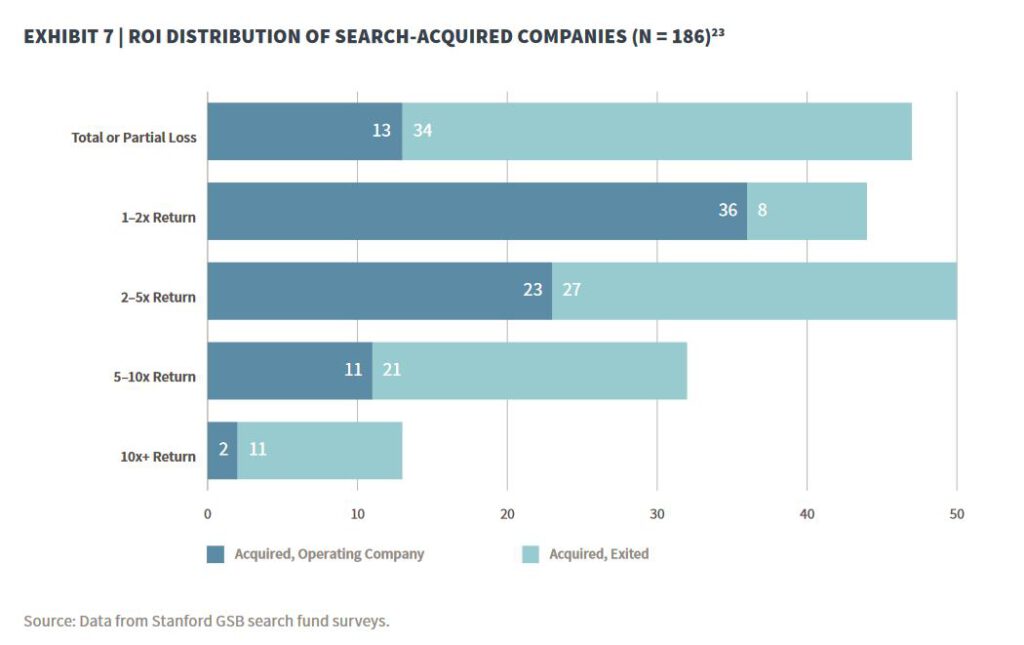 Value drivers: Why can you expect such a high potential return with our concept based on search funds?

a) Very low valua­tions for small acqui­si­tions with 4 — 6x EBIT multiple compared to larger M&A transac­tions with 10 — 13x EBITDA multiple. The diffe­rence between EBIT and EBITDA is depre­ciation and amortiz­ation added to EBIT, i.e. the valuation base is additio­nally higher for larger companies as a result.
The DUB SME multiples are suitable as the valuation method for companies with sales below EUR 20 million.
Note: In the above mentioned CES study, the search funds paid an average purchase price of 6.0x EBITDA multiple, i.e. more than what is usual in the German market.
b) Higher profi­ta­bility through profes­sio­na­liz­ation of management and conti­nuous opera­tional improvements
"Given the compa­ra­tively low level of management ratings for German SMEs, there is consi­derable catch-up potential."

iwf Kiel: Management Practices and Produc­tivity in Germany, Working Paper, 20116
"Improving the quality of management, as we measure it, by one point is equivalent to incre­asing capital by 65% or labor by 25% and applies to all companies regardless of industry, profi­ta­bility, past produc­tivity, growth, and size. …"

World Management Survey, Manufac­turing Report 2014, trans­lation, 13,000 inter­views in 33 countries).
c) From experience, the even stronger driver: revenue growth while maintaining fixed cost disci­pline (e.g., through sales focus/​KPIs, synergies when buying multiple smaller companies, i.e., especially "cross selling" to customers)
d) Develop and expand the business model with digita­liz­ation and internationalization.
e) Long-term exit strategy: once the company has grown larger, private equity firms come into question as buyers, paying signi­fi­cantly higher takeover prices for companies.
The search fund model targets a fragmented and ineffi­cient part of the market that is too small for insti­tu­tional investors and too large for most angel groups. Search funds benefit from the fact that companies with EBITDA of less than $5 million are not attractive to the rest of the world. However, once an entre­preneur has built a company with EBITDA above $5 million, the rest of the world is interested and often willing to pay a high price for it.

Rob Johnson(IESE): Search Funds — What have made them work
There have been only a few active search funds in Germany so far, whereas there are many more search funds in the US as well as Spain. At the same time there are many medium sized companies which require a successor. Here is one article from 2017 about the German situation in English, but it is still relevant;
Handels­blatt: Search Funds To The Rescue
Interested in investing? Search "Fund" Teaser /​Concept for investing in a B2B trading business in Germany available on request.